There is no better gift than something handmade, and Valentine's Day is all about crafting your heart out! I'm Karen from Lettering By Karen, and today I will be sharing with you a simple, definitely sweet Valentine's Day gift that is bound to make that special someone smile. There are so many different ways to personalize this gift. I know I'm already thinking about the next one that I'm going to make! Let's get started!
Small bucket 
Hershey's kisses and hugs 
Oval template 
Chalk 
Scissors 
Dry cloth 
Ruler (optional) 
Cricut (optional)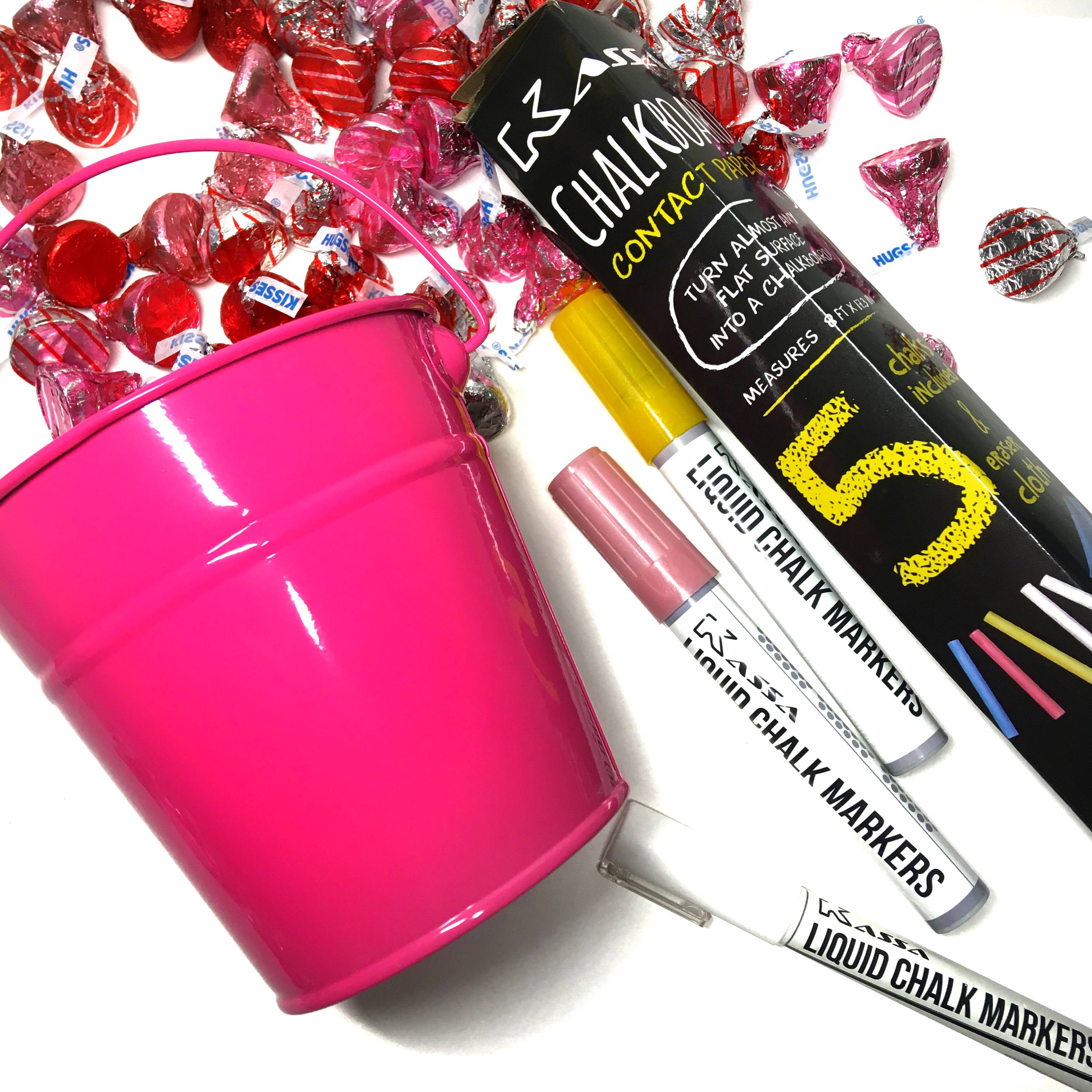 Gather your materials. If you're using Kassa chalkboard contact paper, a cloth and chalk will come inside of the contact paper roll. Measure the side of your bucket to determine what size to cut the chalkboard contact paper. Today, I will be going over two different methods to cut your shape out of the contact paper. For this project, we will be using an oval.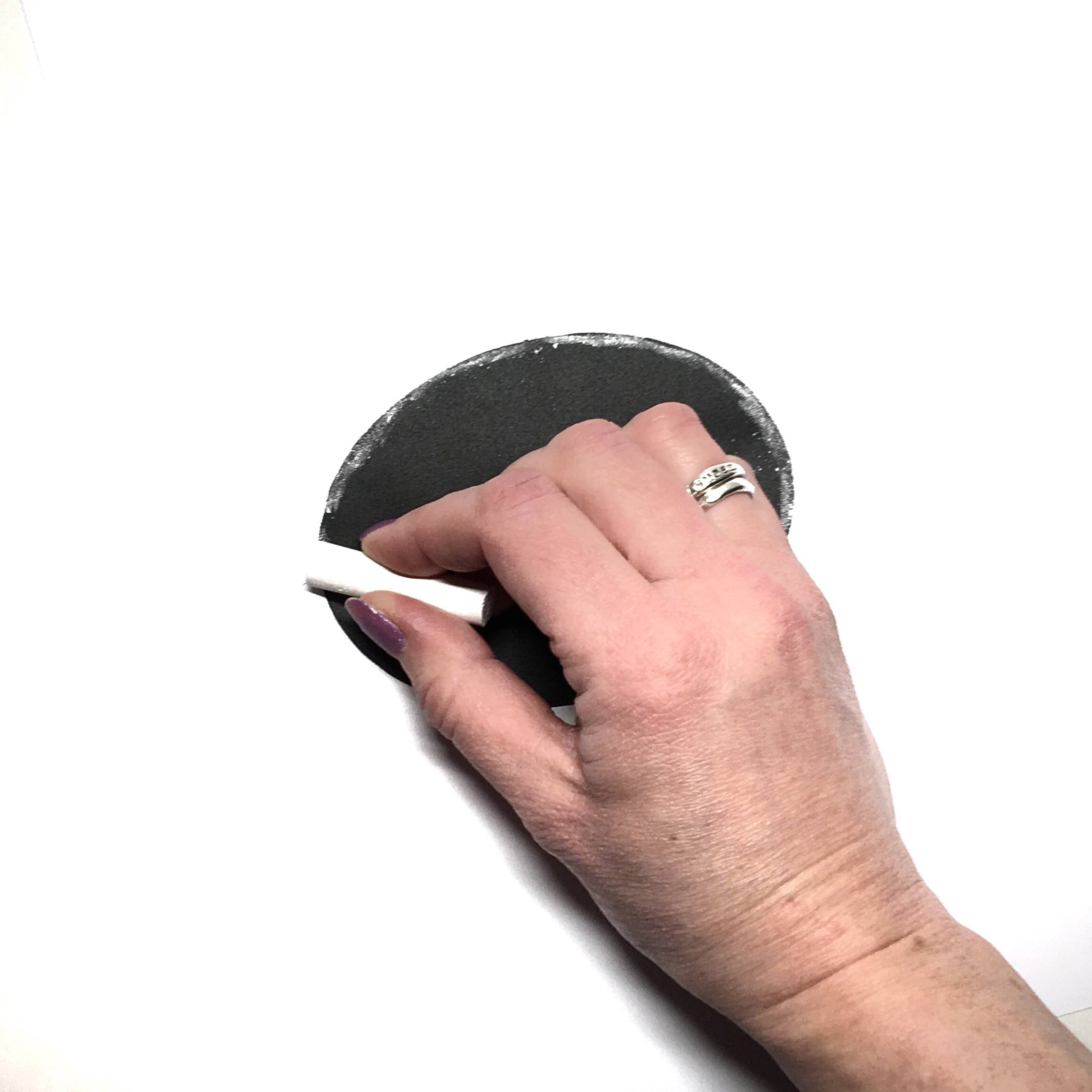 Use a stencil to trace your shape onto the chalkboard contact paper. I printed out an oval on printer paper and cut it out to use as a stencil. Place your paper stencil on top of the contact paper, and trace it using a regular piece of chalk. Using scissors, trim along the chalk lines until you're left with an oval sticker! The chalk will easily wipe off with a dry cloth.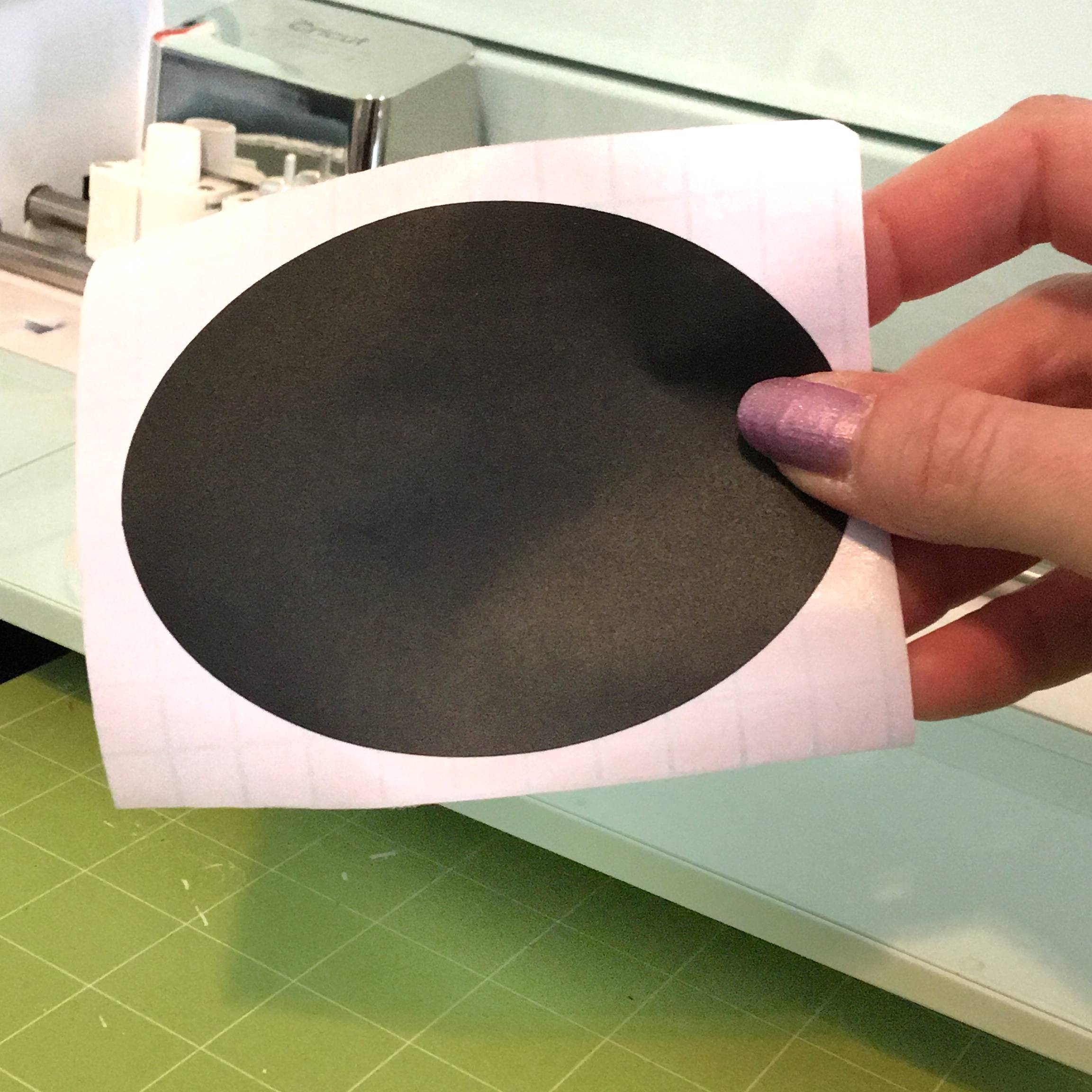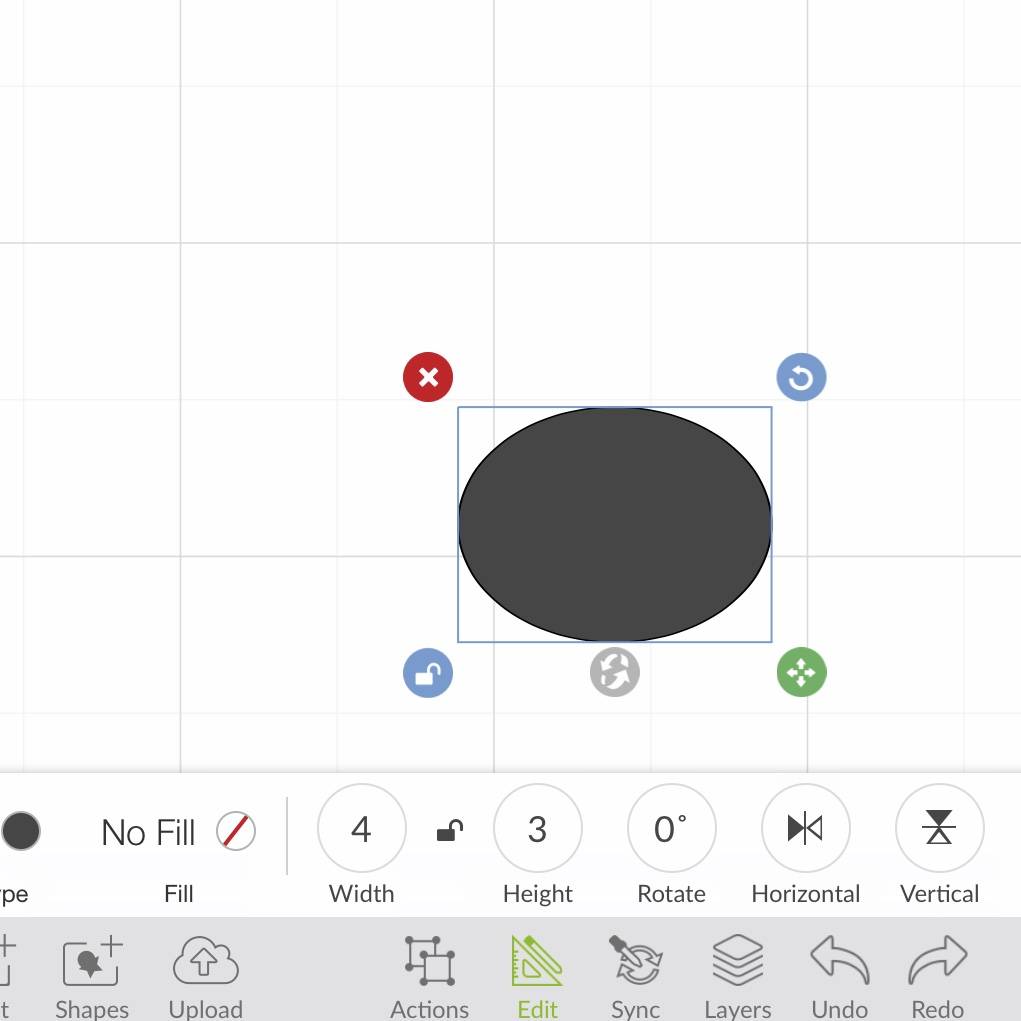 This method requires a Cricut cutting machine (any cutting machine will do!), but is by far the easiest method that yields the best results. The Cricut software allows you to add shapes to your canvas. Choose "Shapes" and pick the circle option. With the circle selected, choose "Edit" and unlock the dimensions by clicking the little lock icon. For my small bucket, I chose to go with a 4" x 3" oval. Set the Cricut to the vinyl setting to cut out the chalkboard contact paper. Remove the excess contact paper once it is cut!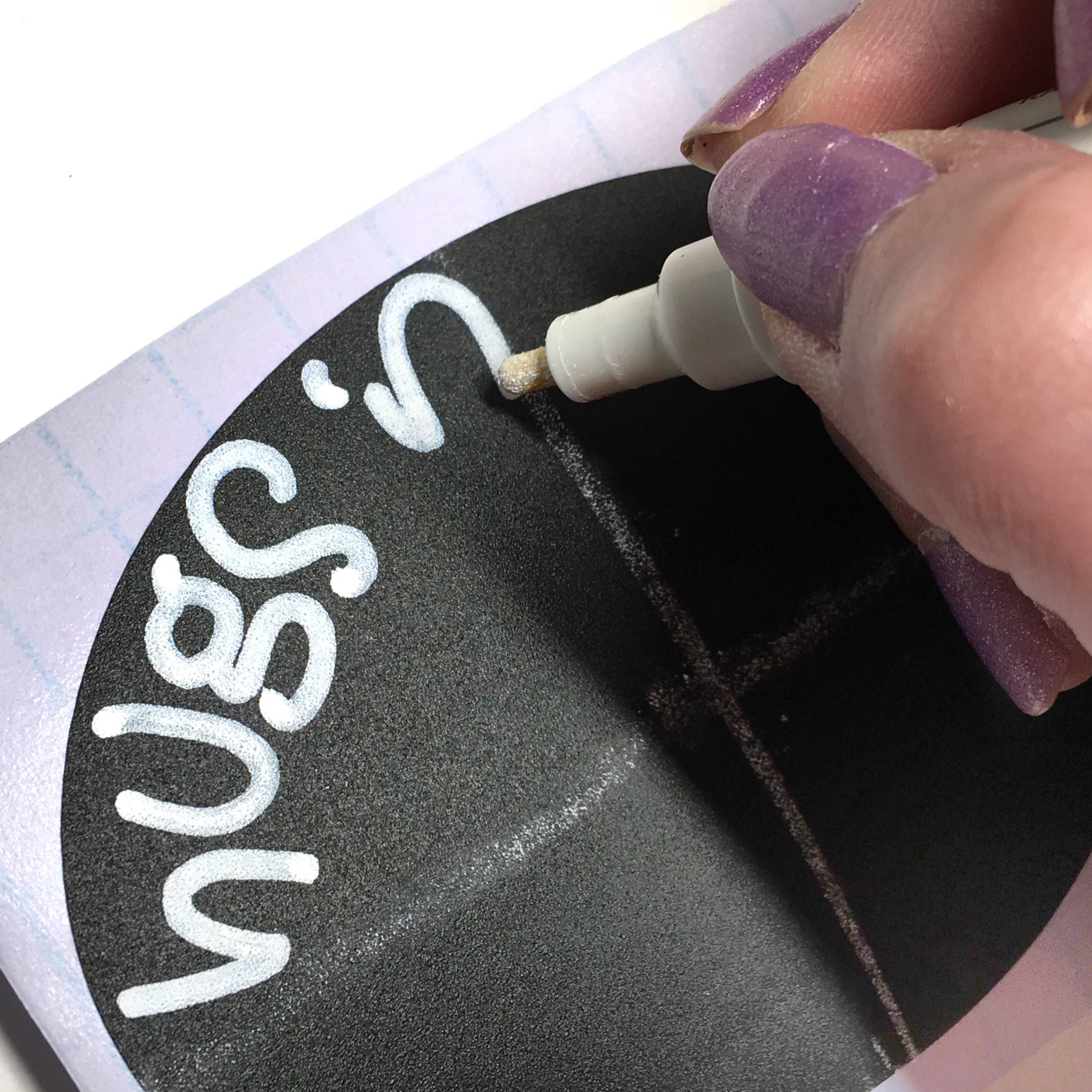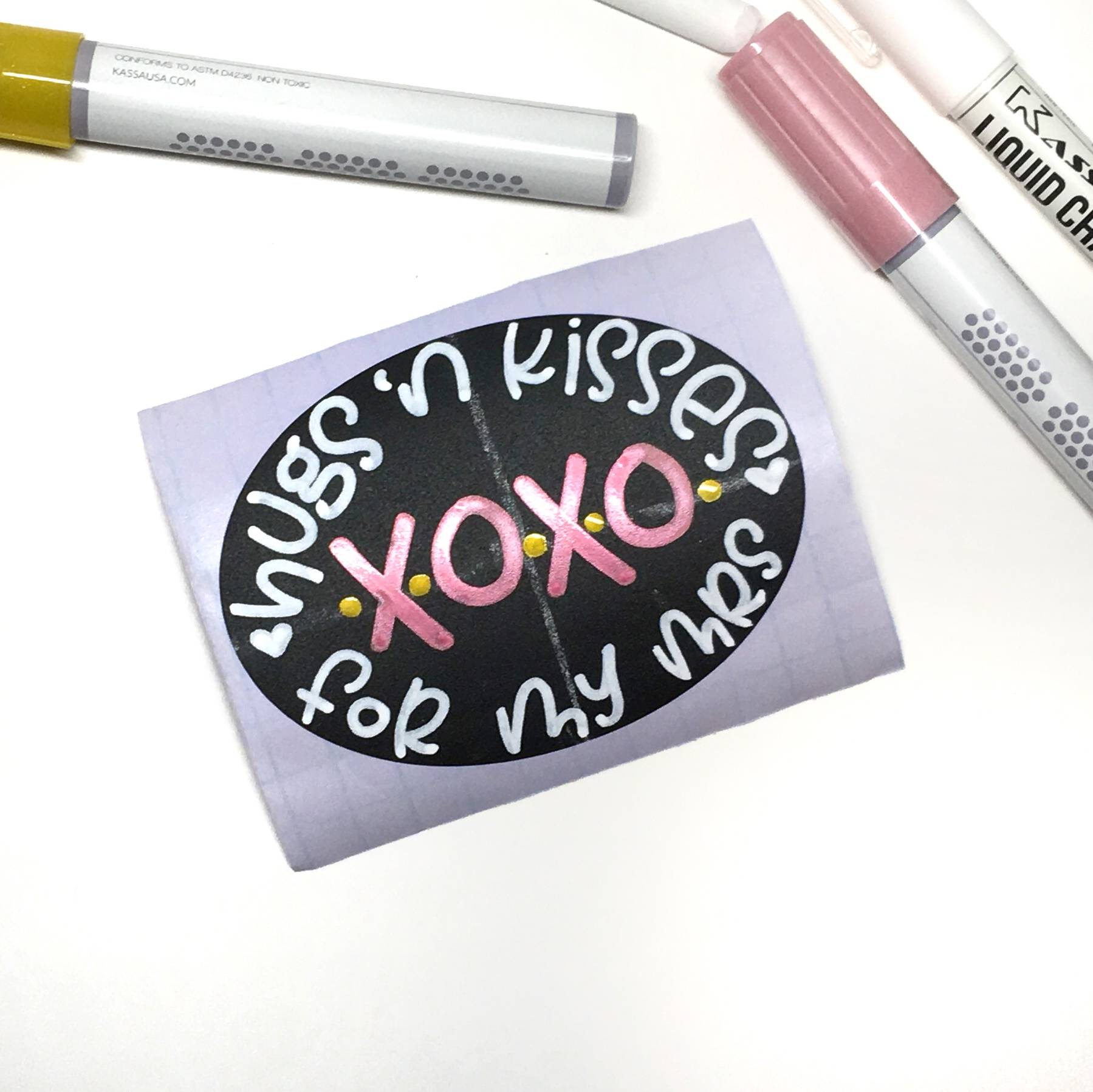 Choose the saying that you'll be writing on your label. I decided on "hugs 'n kisses for my mrs;" it's a fun rhyme and fits my choice of chocolate perfectly! To ensure that I wrote my words straight on the label, I used chalk and a ruler to add a few guidelines before getting out the chalk markers.
Make sure your chalk markers are primed and ready! If they are new or haven't been used in a while, give them a good shake with the cap on and then pump the tip until it fills with ink. 
Ok! Now you're ready to write your saying. Get creative, and have fun with it! If you make a mistake, use a damp cloth to erase the liquid chalk ink. I used a Kassa 3mm fine tip white chalk marker for the words and Kassa metallic chalk markers in rose gold and gold for the XOXO in the middle! 
TIP: If you're using the bolder 6mm tip chalk markers, try turning the tip to the chisel side when writing smaller words. The small end of the chisel tip will give you a finer tip than the bullet tip.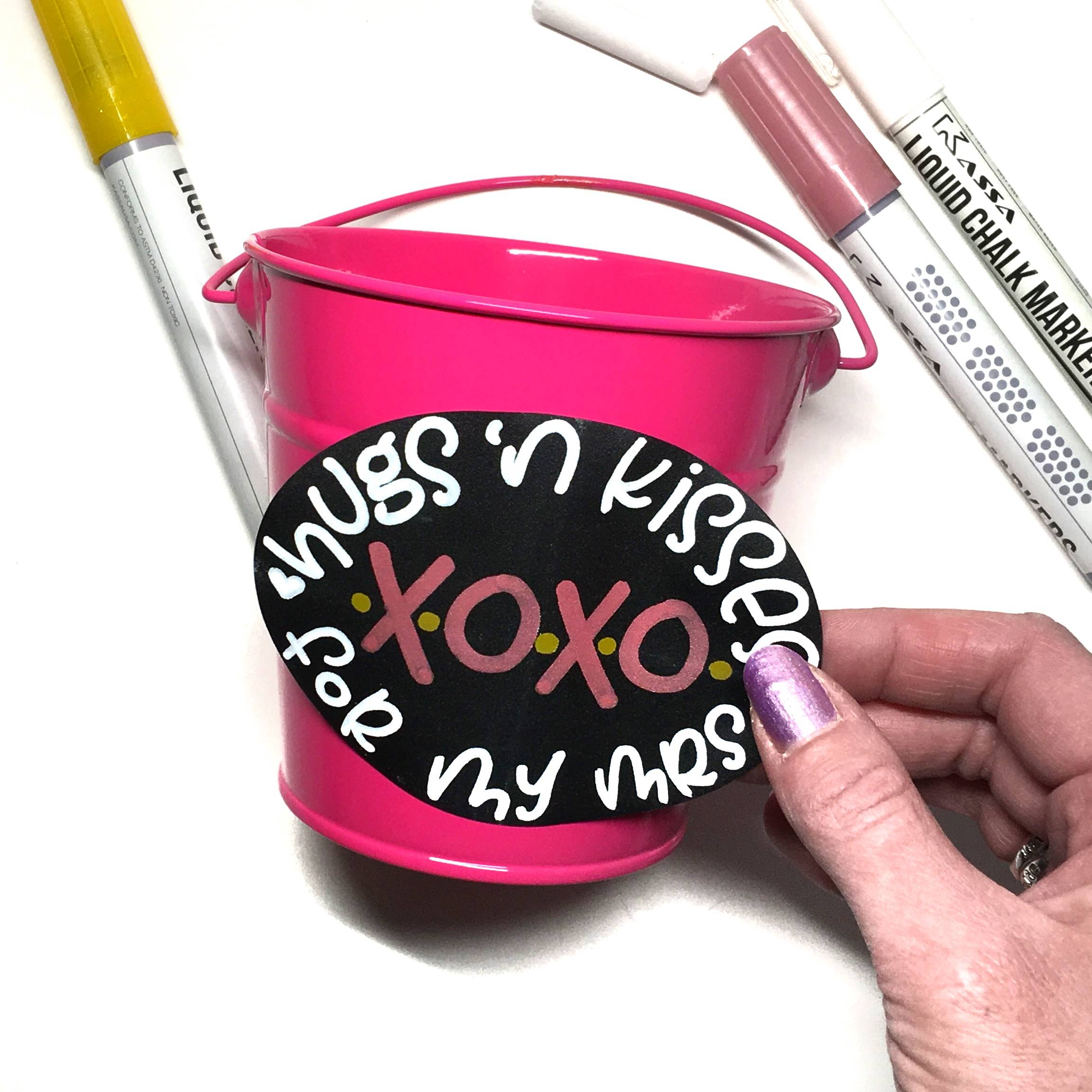 Once the liquid chalk ink has completely dried, use your dry cloth to gently wipe away any chalk dust. Peel the backing off of the chalkboard contact paper and place it on the bucket. Gently rub to secure the contact paper to the surface of the bucket.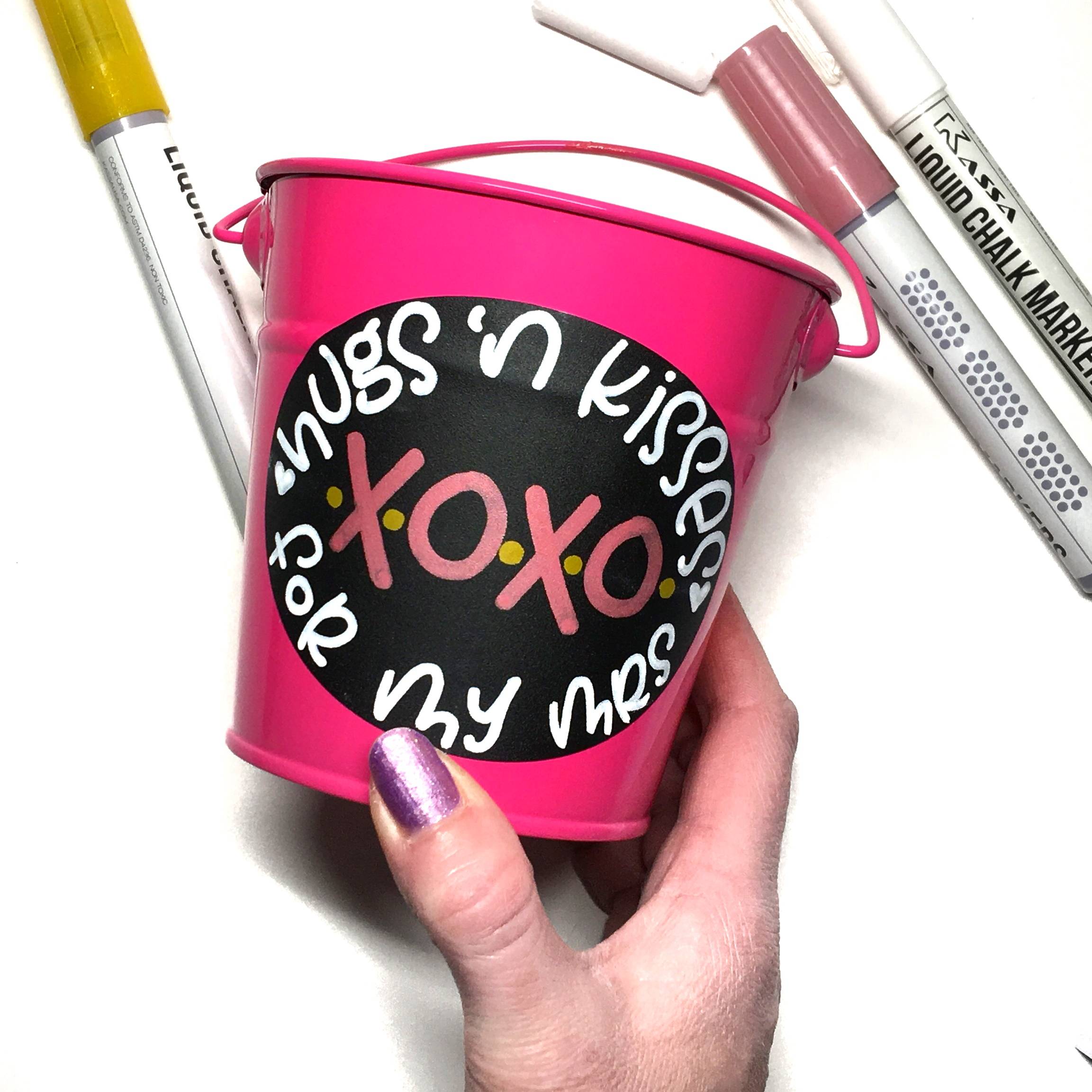 Are you ready? This is my favorite part! Now that the label is on, it's time to fill the bucket with chocolate. Bonus points if you can manage to do this step without eating any!
Ta da! A beautiful, personalized Valentine's gift for someone special. Please be sure to tag
@kassa
and
@letteringbykaren
with the hashtag
#kassamoment
when you make yours – we cannot wait to see your creations! Happy Valentine's Day!