Hi everybody! Robyn from Pink Robyn Decor here to talk watercoloring. Perhaps you've always wanted to try watercolor lettering but didn't quite know how or where to start. What supplies should you get? What watercolors are best? How will you ever get the paintbrush to function well enough to form a letter? I've been there! As a hand-lettering artist myself, and mostly using PENS to do my work, I used to wonder how I'd make the switch to learning how to letter with a paintbrush. But I'm here to tell you it's easier than you'd think, if you try it out with a water brush instead of a traditional paintbrush. The water brush functions much more like a pen, but provides the watercolor result – and it's so forgiving!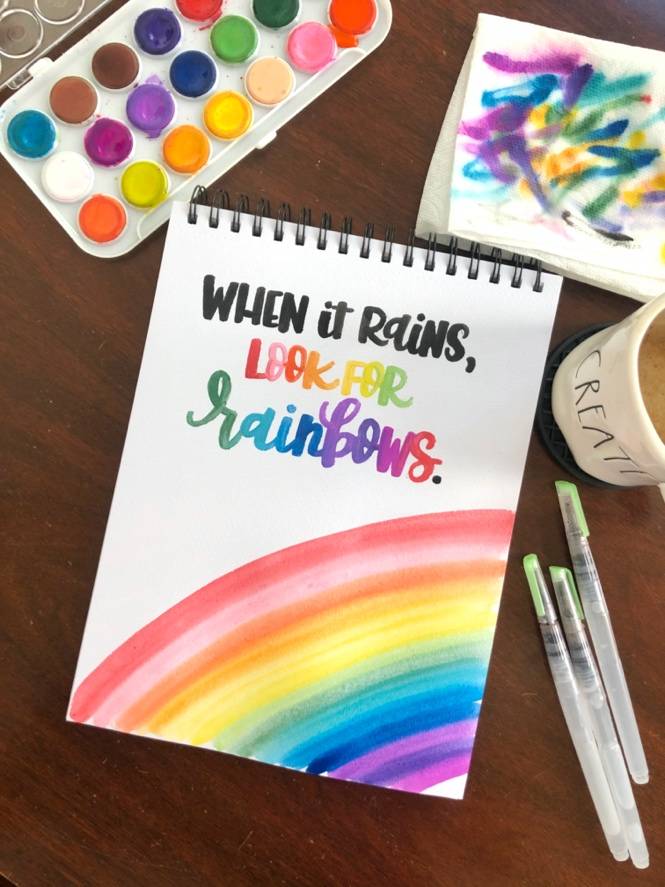 So let's give it a shot. Let me show you how to create this "When it Rains, Look for Rainbows" lettering piece with a water brush pen.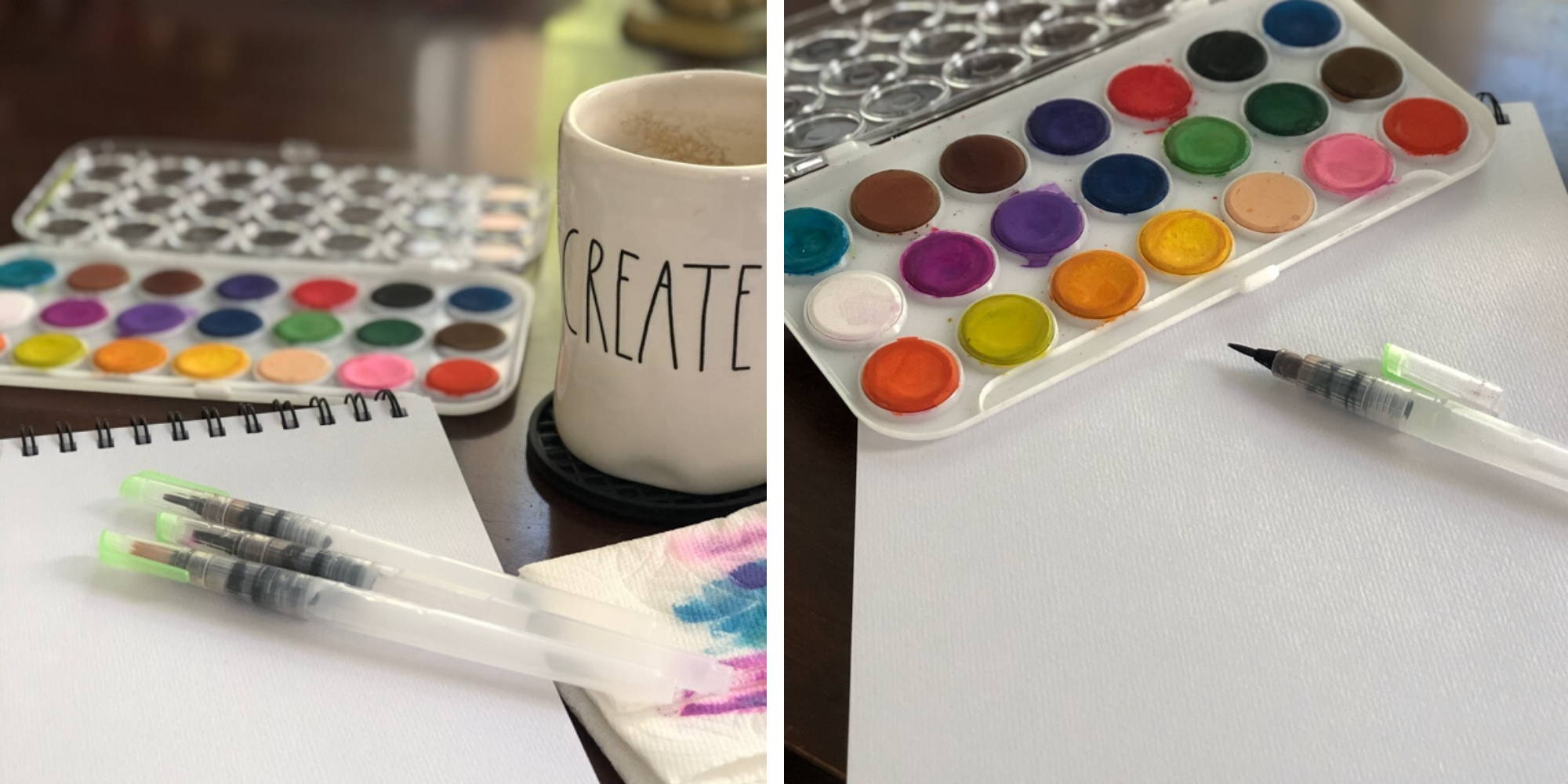 Kassa Watercolor Set (watercolors, water brush pens, watercolor pad) 
Water 
Paper towel 
Pencil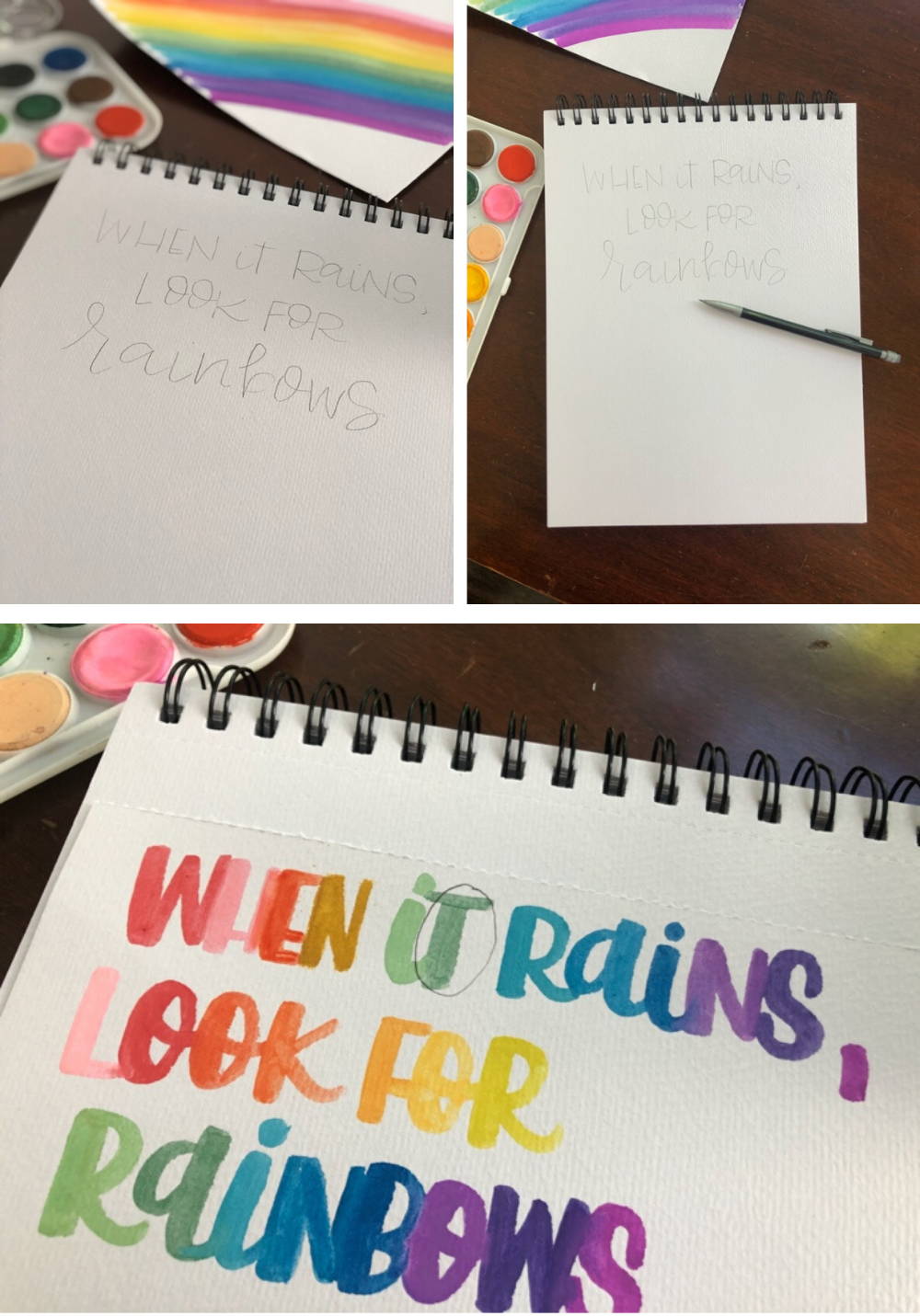 Use your pencil to LIGHTLY write out the words you'd like to use. If you'll be replicating my piece, you'll want to letter: "When it rains, look for rainbows." 
 I typically skip the penciling step, but I'd suggest it for beginners – it will help you to make fewer overall mistakes and keep your work straight. As you get better, you can skip this step, especially as you will still see the pencil lines underneath the lighter colors. 
Pencil it out as you'd like it appear once the watercolor is added. 
Find the middle letter in a word or phrase and then work out, in order to space your piece properly.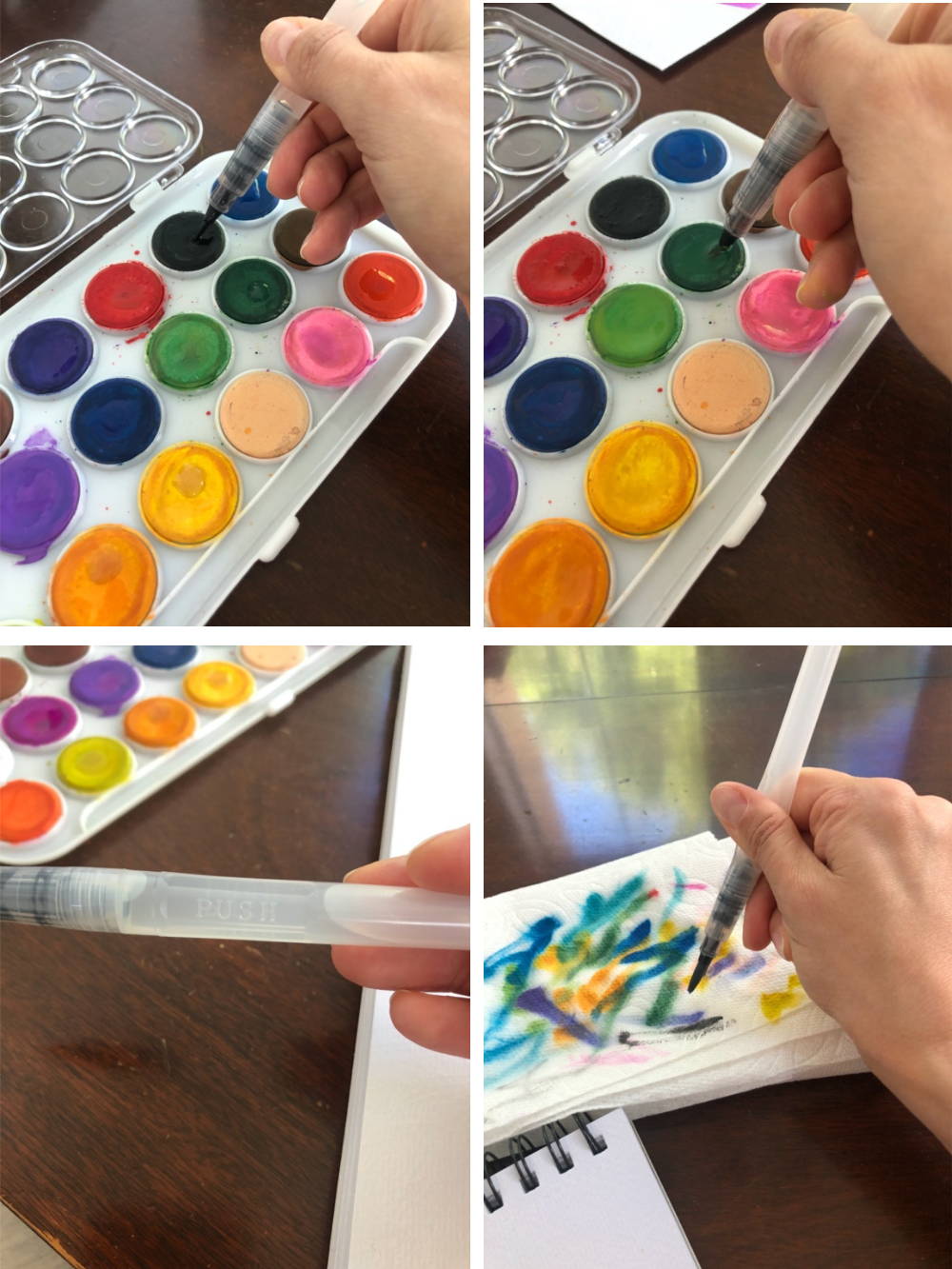 Prepare the colors you'd like to use by squeezing out a bit of water from the brush pen into each color and mixing it around a bit. 
 Squeeze where the brush says "push." 
I use my paper towel when I switch colors, so they don't bleed together. Just push a bit as you wipe, so water comes through and cleans the tip.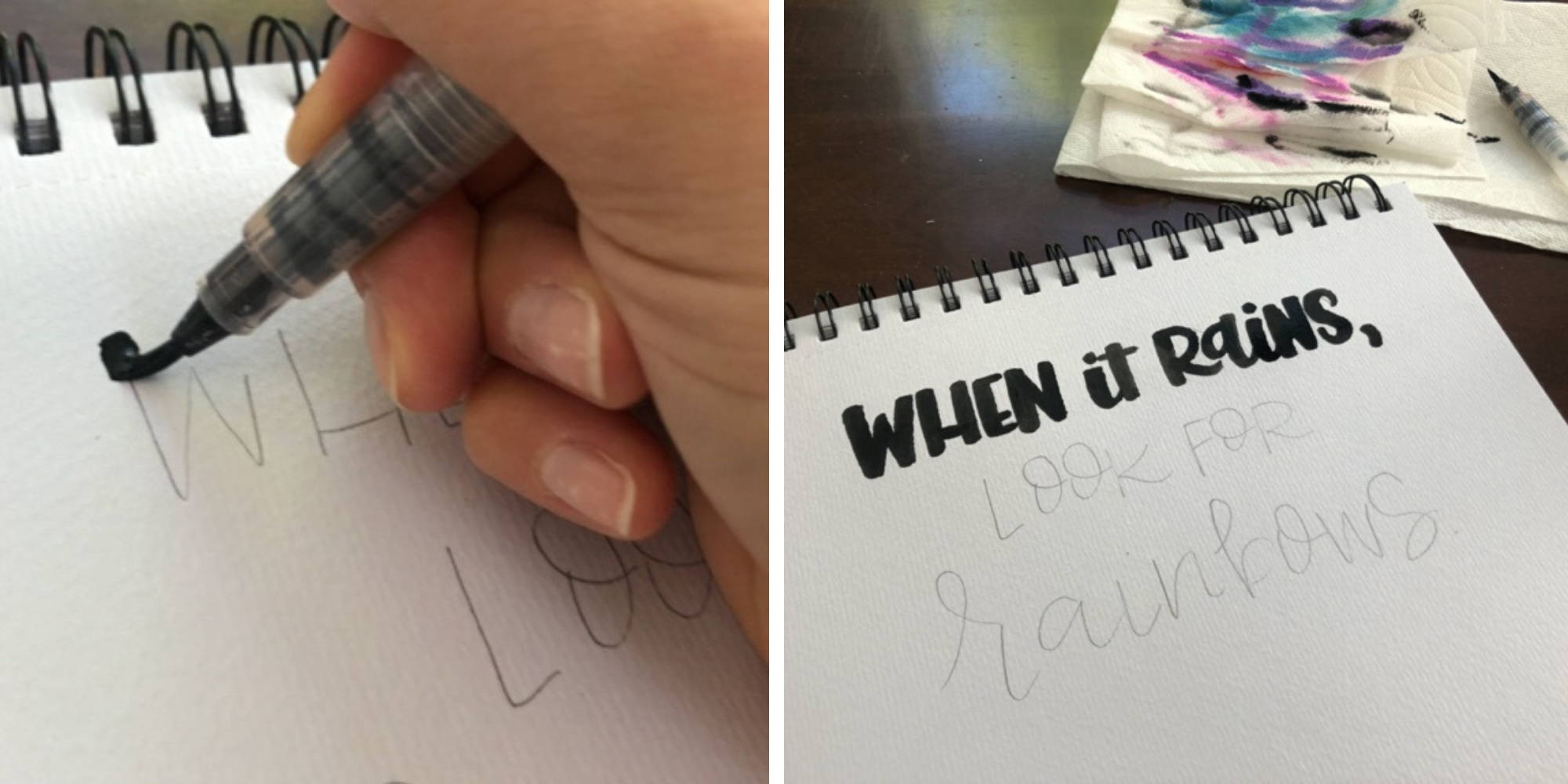 Start the lettering portion with the fine tipped brush. 
Begin painting with your water brush, using just one color (I used black). 
My general technique is to dip the brush into the prepared palette color until the tip is saturated, and then take it to the paper and pull downward to begin my stroke. As I pull, if the brush feels too dry, I squeeze lightly as I pull down, in order to re-wet the brush. I re-dip the water brush into the palette and blend it around, if I need more color on the brush. 
Lettering works as follows: Apply more pressure during the downstroke (pull), to create a thicker line. Release pressure during the upstroke to create a thinner line. 
Keep in mind that watercolor is very forgiving, so you can go over any stroke again. You can dip the brush back into your palette to add pigment or widen a line. You can mix colors to blend as you go (see Step 4).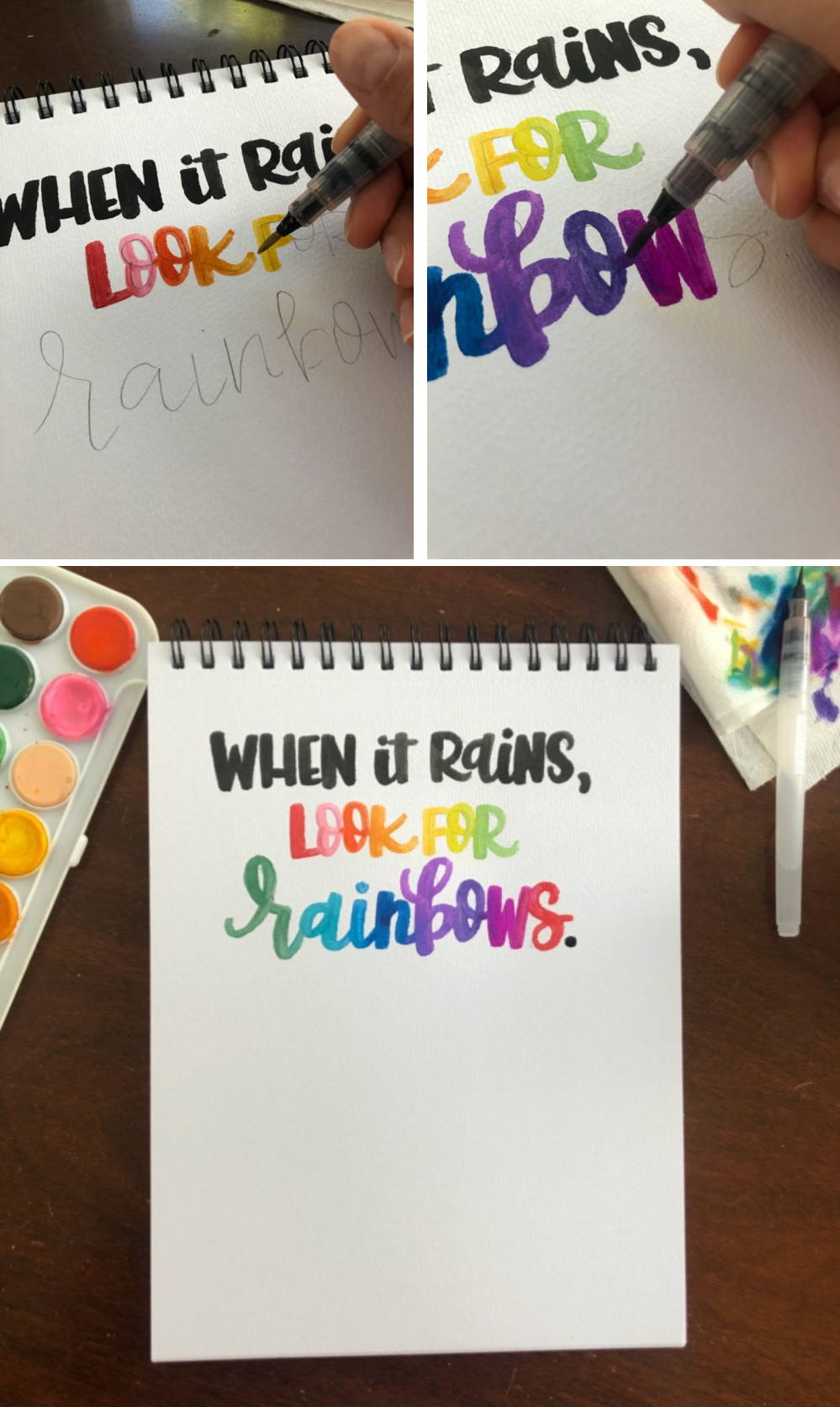 Continue painting with your water brush, but this time try using rainbows colors or alternating colors. 
My general technique is to make my first letter, and then when beginning my second, I allow it to "touch" the first. The colors will naturally bleed into each other. Then I'll dip my brush into the first color again, to blend the touching letters a bit more. 
 There is no "right or wrong" way to do this. Just experiment and see what you like! Practice makes progress.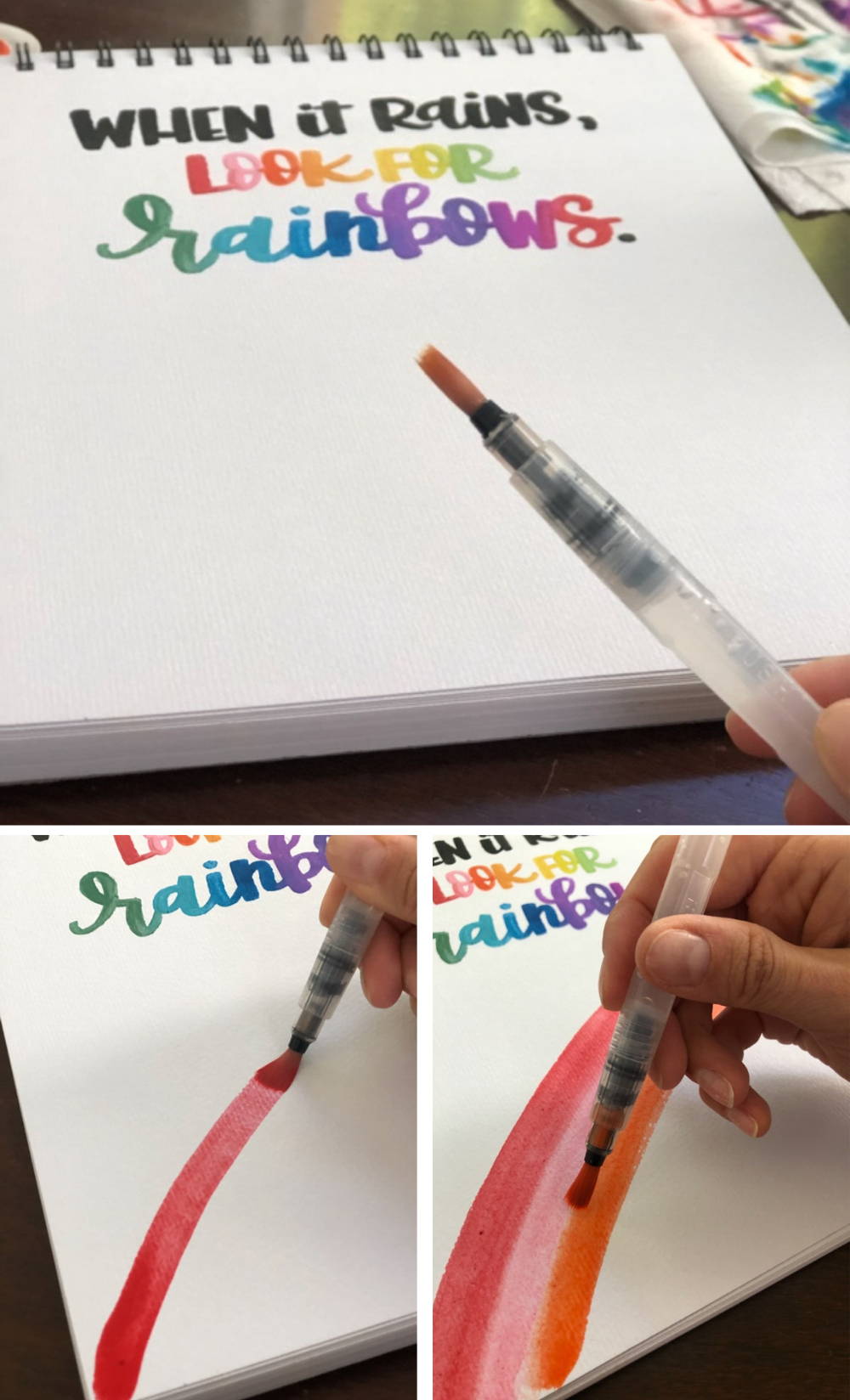 Switch to the thicker flat tipped brush. 
You'll now begin creating your rainbow. 
Follow the same techniques as above, however, you don't need to work as much about down and upstrokes. Just go for it! 
My general technique is to pull the second color close to the first, while it is still wet, to allow the colors to naturally bleed into each other. As I pull the color, I squeeze the water brush a bit, to help with this. 
If I don't get the color I'm going for, I add more pigment to the brush by dipping it back into the palette. Then I pull directly in-between both colors already on the paper, to allow them to blend a little more. 
Keep repeating this until you've made the rainbow the way you like it.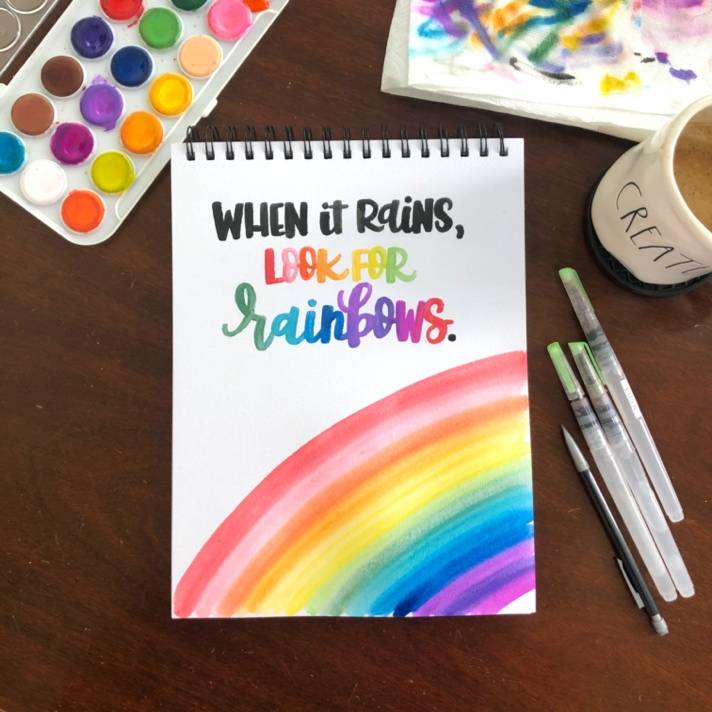 Pat yourself on the back for a job well done! 
And then try it again! As you go, you'll figure out what techniques work best for you. Give it a try WITHOUT the pencil. Or search the wet-on-wet method, and see if you like that better. The more you practice, the better you'll be able to figure out what works for you. But most importantly, have fun!
If you use this tutorial to make your own DIY creations with the Kassa Watercolor set be sure tag us
@Pinkrobyndecor
 and
@Kassa
with the hashtag
#kassamoment
for a chance to be featured!