It seems like everywhere you look nowadays there's a beautiful chalkboard or glass drawing made with vibrant attention grabbing colors. These artworks are all made with chalk markers which have become popular as the go-to tool for creating everything from DIY wedding decor to restaurant bistro boards and so much more. They are dust-free, erase easily, have a bright pigment and are super simple to use. To help get you started we made a list of helpful tips that you can use to start drawing and writing with your chalk pens right out of the box. 
How to Activate Chalk Markers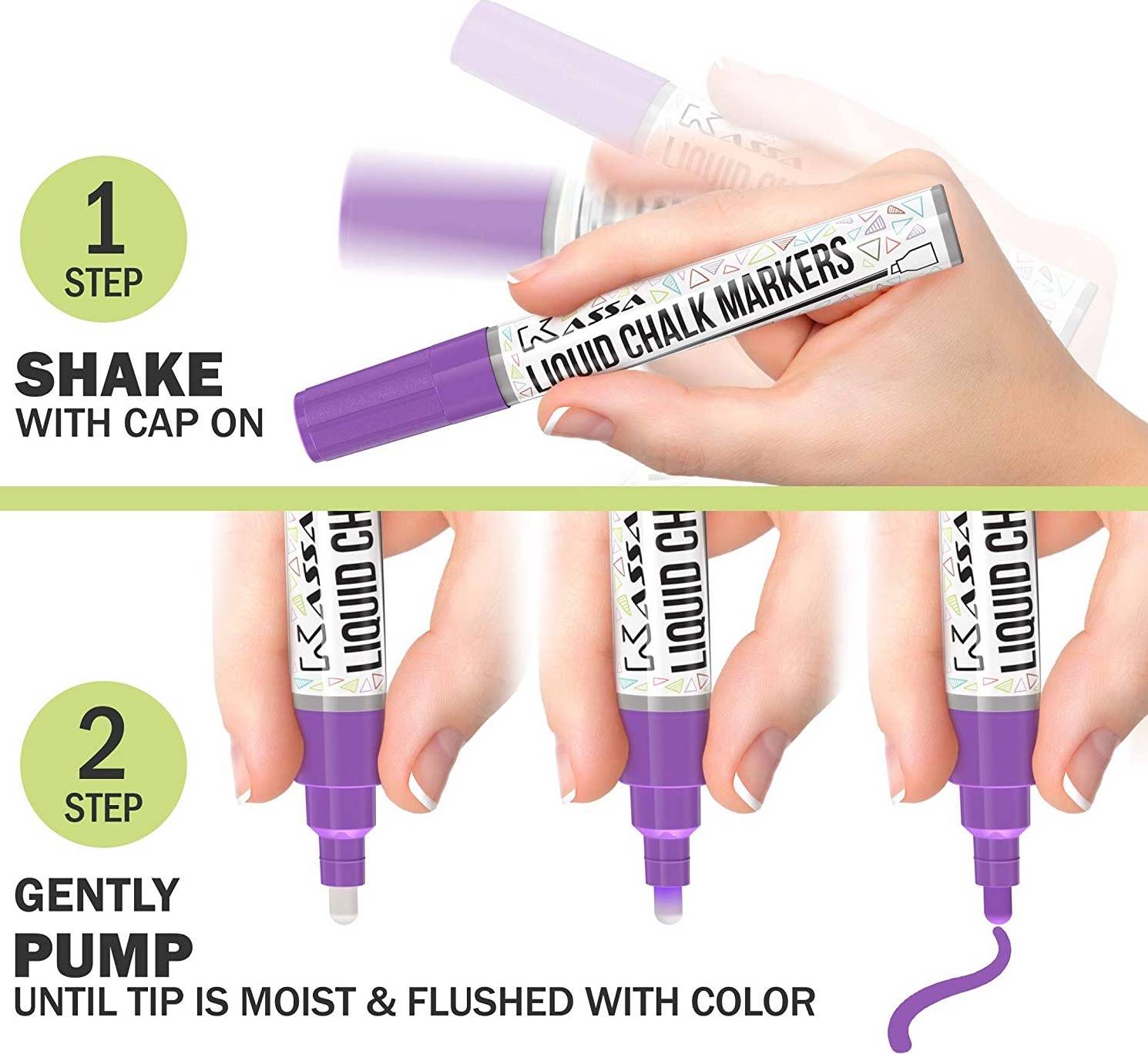 Before you can start using your chalk markers, you will have to activate them first. Chalk markers, by design, come with a dry and colorless tip. This is how you can get the super bright ink to flow:

Shake the marker while capped and lid pointing up
Remove the cap and press the nib down against a flat surface. It's best to use a test paper instead of your project surface
Release the marker once there you see a small puddle of ink. This can take up to a minute
Make a few test marks with the chalk marker to make sure you have the right amount of ink flow.
Start drawing
Tips For Using Chalk Markers
Kassa chalk markers are really fun and simple to use to create beautiful works of art. Here are some techniques and tricks you can apply:
The chalk marker nib is reversible, simply pull it out and switch between a bullet & chisel point. The Bullet Tip is a medium point that provides a consistent line across your surface. The Chisel Tip is cut on an angle and can vary between a thin point and a thicker point.
Chalk ink erases easily from non porous surfaces like chalkboard, glass, windows, mirrors and more with a damp cloth. For erasing small details, you can use a damp Q-tip.
Make sure to prime a new chalkboard before using chalk markers on it. This will ensure the ink will fully erase and there will not be a ghosting effect left behind.
When coloring in a large section, make sure to go slowly to get even coverage and prevent streaking.
New colors: Take any two or more chalk markers and mixing the inks in a glass or ceramic dish. Then dip a chalk marker with a dry tip into the mixture to use the new color your project surface. (Kassa chalk markers include two extra tips in every pack)
Create blending effects with the markers by adding water to the chalk ink. You can dilute the color, bleed two colors into each other, and so much more.
If you haven't used your chalk markers in a while, you may need to re activate the markers to get the ink flowing again.
How to Use Chalk Markers On Glass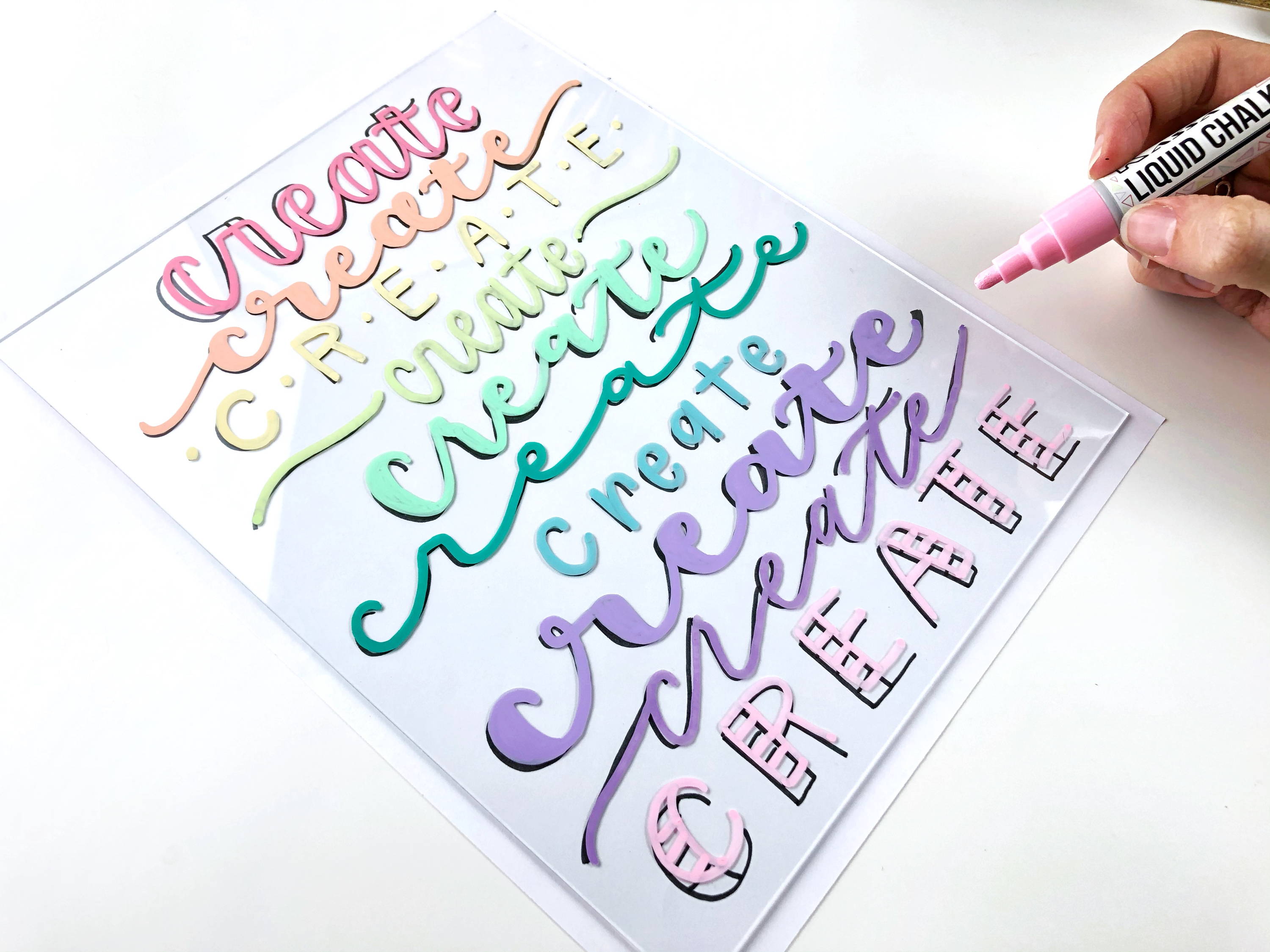 Kassa chalk markers are perfect for writing and drawing on all kinds of glass surfaces like mirrors, windows,, picture frames, and more. Here are some tips you can do to perfect your artwork on glass:
Clean the surface with warm soapy water to remove any stickiness or dust from the glass surface. Make sure to glass surface is completely dry before use.
Create a design on paper or print some artwork you found the internet.  
Place this artwork behind your glass surface. You can use a few pieces of tape to keep the paper from moving. 
Trace the artwork using chalk markers to create beautiful professional results in minutes. 
For more information read our blog about Chalk Lettering on Glass
Storing Your Chalk Markers After Use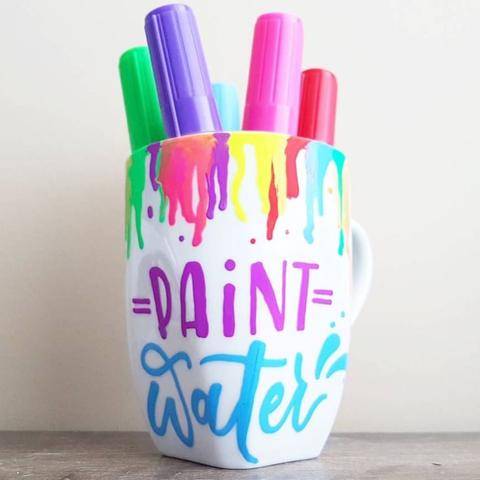 Proper maintenance can help extend the life of any art supplies. When you are done using the chalk markers, put the cap back to prevent the ink from drying. You also should store them upright and not horizontally so make sure the ink doesn't seep out the tips while they're not in use.
Season Chalkboard To Avoid Ghosting
If you are using chalk markers on a chalkboard, you will need to season it first. Otherwise, you will have a hard time being able to completely erase your chalk writing or drawing. A faint image will eternally remain due to the chalkboards porous surface. This is called ghosting or shadowing.
To ensure ghosting doesn't happen, a few simple steps are required. Seasoning your board will create a chalk "foundation" that will alleviate any problems. It's super easy and it takes no time at all:
Lay a piece of chalk flat on its side and cover your entire board.
Do one layer of chalk going up and down. Then coat a second layer moving side to side to ensure you fill every pore with the primer chalk.
Wipe off the chalk using a soft dry rag.
Blow any excess dust off
If you season the whole thing, all the little pores will get filled with chalk particles and your future drawings will look nice and can be easily erased with a damp cloth.